What does CE Protection Mean (Part 2)?
We spoke about CE Tested, CE Certified and CE Approved terminologies in the previous part, so let's get down to the coding used for armour.
The CE code states, "motorcyclists protective clothing against mechanical impact":
EN1621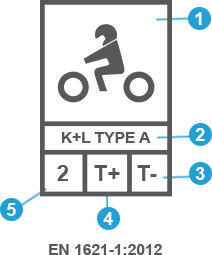 Next is either one of the two numbers "1" or "2" or "3".
If you see EN1621-1, the armour is for:
S – Shoulder.
E – Elbow.
H – Hip.
K – Knee.
K + L – Knee, upper and middle tibia.
L – Shin (front of leg) below knee protector.
KP – Knuckle protection.
There may also be an extra letter, turning the code into EN1621-1B.
A – reduced coverage area for special applications.
B – normal coverage area.
If you see EN1621-2, the armour is for back protection only. However, there are different codes for different areas of coverage:
B or FB – Full back protector.
CB – Central back.
L or LB – Lumbar only.
The EN1621-3 standard applies to chest protectors.
Do note that gear manufacturers may or may not list the entire code in the garment or armour itself. However, you may find the full information on the cards attached to the piece of new gear.
Level of Protection
There are two levels of protection, Level 1 and Level 2. The amount of force transmitted through determines the level. For example:
Level 1 – Maximum transferred force must be below 18 kN, and no single value above 24 kN.
Level 2 – Maximum transferred force must be below 9 kN, and no single value above 12 kN.
This means a certified Level 2 armour is more protective than one that's certified as Level 1.
On this note, certain riding gear manufacturers may also describe the level of protection for other criterias, for example:
Performance Level 1 or 2.
Abrasion resistance Level 1 or 2.
Impact cut resistance Level 1 or 2.
Burst strength Level 1 or 2.
UNI prEN 17092-X:2017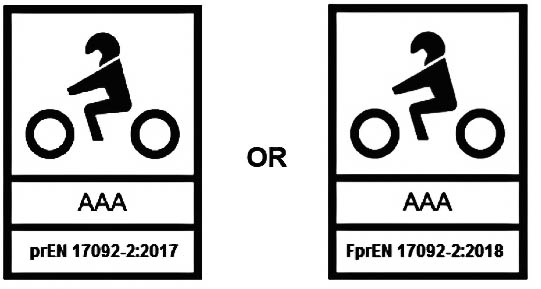 The CE authorization body has implemented a new standard after 2018, although it doesn't appear as much on riding gears. This new standard encapsulates the level of protection within the code itself, unlike the previous EN1621-X, which only alludes the area of protection.
For example, it means Class AAA (the highest level) if you see the code prEN 17092-2:2019 (2019 being the year the gear was certified).
| | |
| --- | --- |
| Class AAA (prEN 17092-2:20XX) | Offers the highest level of protection for highest level of risk. |
| Class AA (prEN 17092-3:20XX) | Second highest level of protection. |
| Class A (prEN 17092-4:20XX) | Third highest level of protection. Comfortable for street riding on a daily basis. |
| Class B (prEN 17092-5:20XX) | Abrasion protection equal to Class A but without impact protection. |
| Class C (prEN 17092-6:20XX) | The least level of protection. Some armors may fall into this category as they resist impacts but not abrasion. |